It's official, Monday 4th October marks the start of the Bombus Rhombus Blog.
What better way to start then to do the official introduction – who are we, what are we and why are we?
Some of you may already know us, some of you are visiting for the first time – but hopefully you all learn a little more about us.
---
Who are we?
Us – it sounds a bit ambiguous doesn't? You'll find the royal 'we' or 'us' used interspersed in our blog posts and on the socials because despite it main being me (hi! I'll introduce myself in a moment!) doing the work that you see, behind the scenes is a lot of support that makes the 'us'!
Me? I'm Amy, and the creator of Bombus Rhombus. I'm the one you'll speak to if you contact us in any way, the one who creates the social media posts and, probably most importantly, the one who does all of the sewing.
I'm a trained Teacher [(Maths and Science) not currently in a classroom – thanks 200 mile move and a pandemic!] and mum of one little boy and two ginger cats! I love reading, learning, listening to music and watching movies in any scraps of spare time I get – in fact there is often a musical or some drama show on in the background while I work! A little bit of an introvert – but always happy to have a chat!
The support? My background cheerleaders B & little C (as well as our lovely extended family!)
Ben is my long term partner (after over seven years, one flat, two houses, one child an two cats, boyfriend doesn't quite have the right ring to it!) and the one who enabled me to take this chance and to build this site. He's a very silent partner and doesn't often show his face on social media at all, but he is my sounding board for all things design. He's also the one to always make me laugh and bring a smile to my face.
Little C is our wonderful little boy. He's kind, clever, funny and my biggest cheerleader – but more on that later!
He's often the model for any new fabrics and styles, and gets paid in Magic Stars, Milky Ways and Milky Bars! He also chooses which photos he likes to go on the socials – have I mentioned he's only 3?
And then we have our wonderful family – the ones to do last minute baby sitting, the ones who give so much encouragement and the ones who are there for a cup of tea and a slice of (exceptional) cake when needed!
---
What are we?
We are a small family run handmade baby and children's clothing, based in Louth, Lincolnshire.
We make clothing designed to be worn and passed on – in sizes ranging from preemie all the way up to 11-12 years. This means we can provide matching or coordinating outfits for all the little ones in your family!
We use a range of exclusive designs, either bought from extraordinarily talented designers (including @freyaillustrates, @lumelloandginger and @wildcub.design to name drop a few) or hand painted myself!
Our fabrics are printed using a company based in Lancashire, on a mix of Jersey and French Terry bases – more on the difference between those on an upcoming blog post.
We are an inclusive company – we pride ourselves on, to steal a quote from a customer, 'making just clothes'. You may notice in our store that items aren't separated into girls and boys – and neither are our fabrics. We truly believe that clothing shouldn't be gendered and that any child should be able to wear any item.
Which leads us quite nicely to…
---
Why are we?
Why are we can be broken down into to two key areas –
Shop bought clothing just didn't fit Little C when he was a baby – and that trend has continued! By making his clothes, I am able to adjust where needed to ensure a better fit. This is something that is offered to everyone – if your child/little one doesn't fit standard sizing, send us a message and we can chat about how to make something unique to your child!
Not so much an issue as a baby, but more and more so as he grows – gendered clothing. I hope that my stance is clear on this – my child isn't loud, dirty, naughty or a devil – nor any of the other negative connotations assigned to plenty of 'boys' clothing – so why would I want to dress him in clothing which says he is. It's perpetuating unnecessary stereotypes, and something I'm not comfortable with. The same goes for 'girls' clothing – not every girl loves sparkles and is dainty, quiet and 'cute'. I'm not saying NO to labels or slogans – just the ones which continue an unhealthy cycle for the development of children's identities.

I am proud to offer clothing that is just that, clothing. Our fabrics are available for any child, in any any style.
Florals are for everyone. Dinosaurs are for everyone. Cats are for everyone. Space is for everyone. You get the idea – here at Bombus Rhombus that will always be the case. Kindness is for everyone.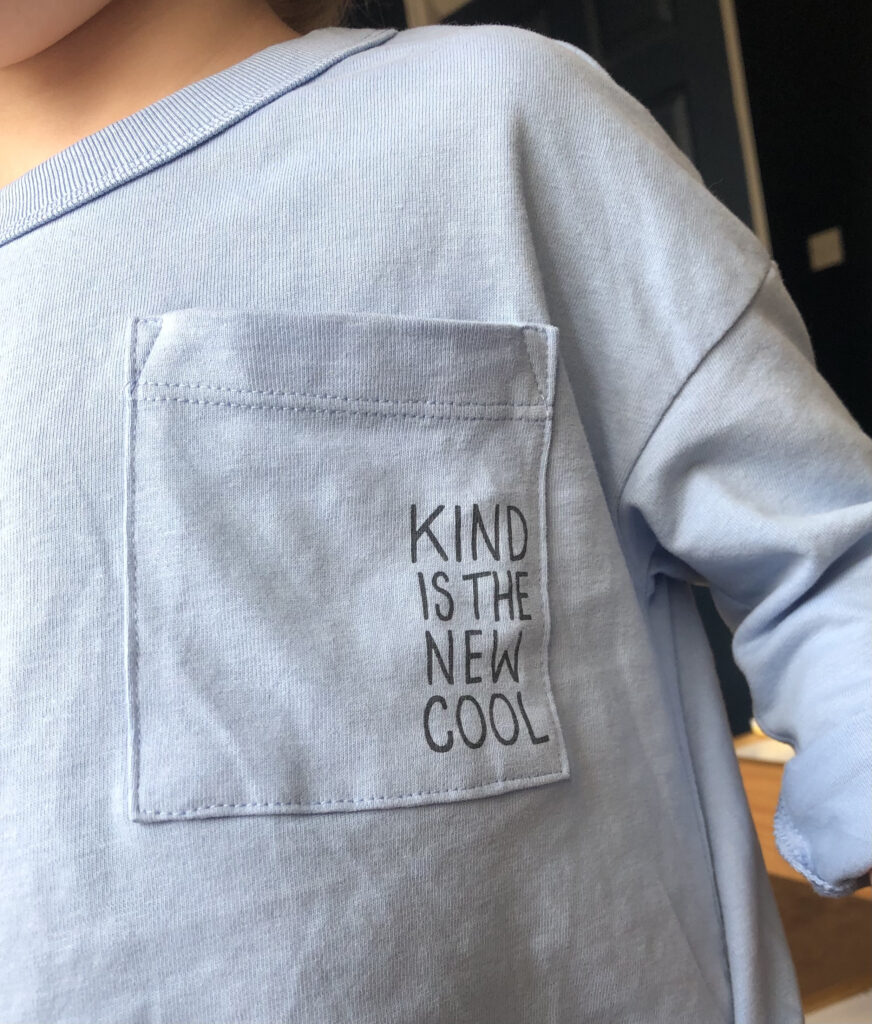 And that (store bought) message is one we stand by!
---
So there we go, the end of the first official blog post… that wasn't as scary as I thought it would be. I hope you've got to know a bit more about us – and look forward to the next post… All the background on our fabrics!
Have a wonderful week – leave a comment if you have any questions, or simply just to say Hi!
Until next time, A x